Home
Lindsey's Aussies PorterHorses Porter Horses
Toy mini aussies
Ready to go puppies
toy aussie puppies, mini aussie puppies, toy australian shepherd puppies, available puppies, blue merle puppies, red merle puppies, blue eyed tri puppies

Adult
Aussies
Available
adult toy australian shepherd for sale, adult dogs for sale, adult mini aussies for sale, adult toy aussies available, older toy australian shepherd puppies for sale, retired toy aussies available

Males
Male toy aussies, male mini aussies, blue merle male aussie, red merle toy aussie, blue eyed tri, stud dogs, toy aussie stud, mini aussie at stud, toy aussies at stud, toy aussie shipped semen, toy aussie available semen, shipping semen on stud dogs



Mini aussie females, miniature australian shepherd females, blue merle mini aussie females, blue eyed tri mini aussies, black tri mini females, red tri females, Mini aussies available, mini aussie females available, mini aussie females for sale
Toy/Mini Aussie
Females
toy aussie females, toy australian shepherd females, red merle toy aussie females, blue merle toy aussie females, toy australian shepherd blue eyed tris, tiny toy aussies, tea cup toy aussies, toy aussie female puppies available
Satisfied
Owners
Satisfied owners, porterhorses reviews, lindseysaussies happy customers, porterhorses, oklahoma, texas, ok, tx, co, colorado, ks, kansas, utah, ut
Links to other pages on this site
My website is updated every day. New litter pictures once a week.
If you're looking for updates, try reloading.
Last updated: April 12, 2019 09:57 PM
Puppies Available
Fall/Winter is here! Weather is changing and we can ship puppies again! Summer was hot and we couldn't easily ship puppies so we prepared for fall. We spent the summer playing and working on some skills with all of our puppies. Knowing they would be older when they left, we know how important it is for an Aussie to be well socialized, loved and started young. We have some great helpers that have been working on teaching our puppies the basics of walking on a leash, going potty outside and coming when they are called. We've even done some fun competitive games with them.
We are now able to fly your puppy out at any time. Of course, you are always welcome to come pick them up in person!




All prices subject to change without notice.
If you don't have a deposit on a puppy- the asking price could change at anytime. Of course, a deposit will hold your puppy at the price agreed when purchased.

Get Exclusive Specials for Facebook Fans Only!


Click on icon below.

Be interactive! Be the first to know of new litters and updates!

If you ever have to give up your dog for any reason, please contact me and let me help you find him or her a home or I will gladly take them back. Please read this.
How could you?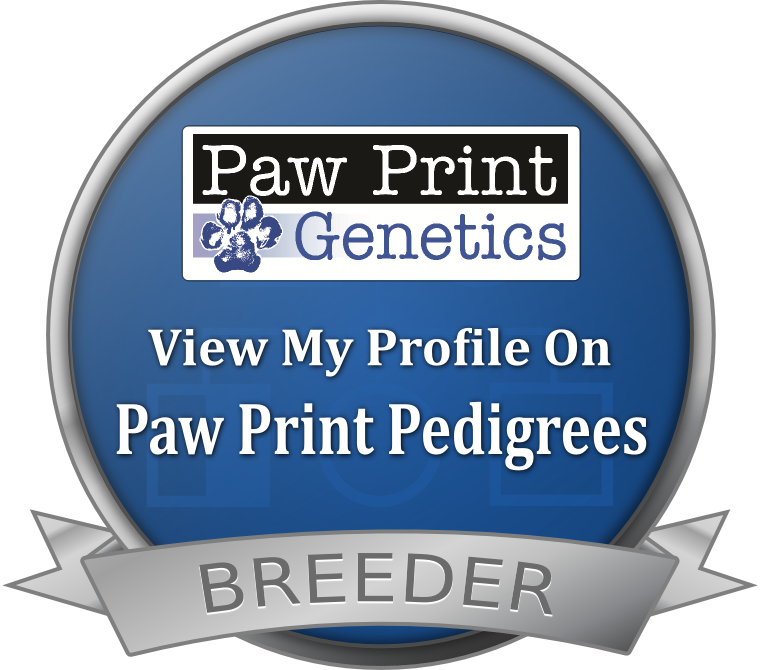 As always, I have the right to refuse to sell a puppy to anyone I don't feel comfortable with for any reason.
Jan. 21, 2010